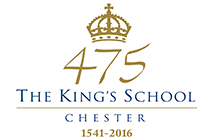 Welcome
to The King's School Chester
King's is a community of learning. A community because staff, pupils and parents share common values and purpose - the ambition to be the best, the benevolence to care for each other, and co-operation and teamwork. We do a lot together - not just sport and music and drama, but over 150 activities and clubs. And we love learning: we are passionate about great teaching, but above all we all learn all the time. We are down-to-earth, but we have some of the best pupils and staff you would see anywhere. All this makes King's a truly remarkable place. Please do come and visit us.
Download or order a prospectus, and sign up for our e-newsletter
Order Prospectus
Discover King's
From Open Morning, Open Door Afternoons, Discovery Days, Music Playdays or private visits, we welcome visitors to see King's on a normal working day.
Infants Discovery Days: 3, 10 and 25 Nov. 2pm - 3pm
Juniors Discovery Days: 8 and 15 Nov. 2.15pm - 3.15pm
Willow Lodge Entrance Assessments: 18th January 2017
Junior School Assessment Day: 18th January 2017
Senior School Entrance Exams: 18th January 2017