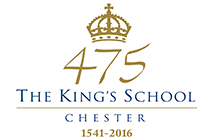 13 May 2013
Head of Junior School's Weekly Message – week commencing 13th April 2013.
---
Last Friday saw me attend the national HMCJ Conference in Bromsgrove.  One of the concerns discussed was the low number of males entering junior education and, in particular, in the private sector.  It made me realise, once again, how fortunate we are that, as a school, we remain able to attract wide interest for any advertised post from a large number of applicants of both genders, thus enabling us to make excellent appointments.
There was also much discussion on the relationship between the junior and senior sections of tied house schools.  Some of my colleagues felt somewhat 'cut adrift'.  This is not the case at King's, where we are fortunate in enjoying favourable relationships with our counterparts in the Senior School.  At management level we meet frequently, for example, and are afforded a voice in the affairs of the whole-school community. This is clearly not the case in many establishments.
There was also a session on how to apply for your next Headship.  In order to start a few (unsubstantiated) rumours, let me tell you that I took most detailed notes!  The leader of this session happened to be a guy who was Deputy Head during my first teaching post in independent education.
It's always good to network at these events and chat with fellow Heads about current issues.  Very often the more informal periods are the best, such as time spent enjoying a good lunch.  And, was the lunch good!  (Fresh salmon for starters, fillet steak as main and white chocolate mousse for dessert ... truly scrumptious!).
The journey down was not great due to the closure of the M5 and the resultant tailback on the M6.  Local knowledge of the area helped as I diverted via Wolverhampton and Kidderminster (what a treat that was ... not!).  It proved a long day, which was further prolonged when I returned home and set about reading my e-mails.
My one regret from the day was that it meant I missed members of our J4 performing their dance routine at the 'Mini Mysteries' hosted by Chester Cathedral.  I am told that I missed an absolute treat.
... Now where did I put the jobs section of the Times Educational Supplement?
Good Work:
Jack Morgan and Isabelle Whittlestone for their 'Wanted' posters.
Roshan Clarke for success in spelling and mental arithmetic tests.
Alex Matijasevich for his remote-controlled aeroplane.
Congratulations:
Max Lloyd was awarded the coaches' 'Player of the Year' trophy for the U9s' team of Mold Rugby Club;
Raef Watts was gained the trophy for U9s' 'Player of the Year' with Chester RUFC;
Lily Harwood skated in Deeside Ice Skating Club's Mini Annual Competition on Sunday and came second out of ten in Spin, Spiral and Jump against competitors who were much older.
Calum McCaig passed his Grade 1 Piano Exam with Merit
Jessica Sedman completed the Fun Run of the Chester Half Marathon on Sunday.
Riyaan Yesudian went to the UK Chess Challenge Megafinal for Cheshire and North Wales and came second in the U10 age group.
Roshan Clarke competed in the same event, winning four out of six games and progressing to the next stage.
Abhijay Chawda also competed in the same event and won four out of six games and qualifies for the Gigafinals.
Rutujay Chawda came second in the U8 age group in the same competition and also qualified for the Gigafinals.
Sports Results:
U10 Cricket v Manchester Grammar School (H)
Our visitors secured a sound victory.
U11B Cricket v Merchant Taylors' (H)
The team suffered a narrow defeat losing by 7 runs.
What's On This Week:
Monday 13th May

 

J4 Group 1 to Plas Menai

 

Wednesday 15th May

 

J4 Group 2 to Plas Menai

Group 1 returns from Plas Menai

 

Friday 17th May

 

2.30 pm

Junior School Taster Afternoon

U8 and U9 Tennis v Altrincham   Prep. (H)

J4 Group 2 returns from Plas   Menai