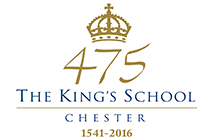 Went to The King's School Chester? We want to hear from you!
Our aim is to maintain and strengthen relationships with
former students, parents and staff. READ MORE

Join for FREE and see the benefits.
We have negotiated some EXCLUSIVE deals with local and national partners that are ONLY available to our Alumni
CLICK HERE to see what they are.

News stories are a great way to share information – have you just got married?, got your first job?, been on a fantastic overseas trip ?, met up with former colleagues?.... Please let us know.......

Keep up to date with current school developments, sports successes, staff news and academic achievements.