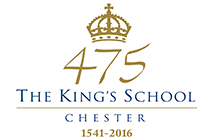 Welcome to the Music Department
Visit the Music School blog for topical articles and media.
The new music school has been in use since April 2005. There is a large Recital Hall, used for rehearsals and class teaching, and a further classroom equipped with fourteen Apple iMac computers, each running Sibelius, GarageBand, Logic Pro and Cubase music software. There is also a recording studio which is used to teach Music Technology and which can be used by students wishing to make their own recordings. There are six instrumental teaching rooms, two of which are large enough for ensemble work.
Class Music
Music is a curriculum subject for all pupils in Removes and Shells, Third year pupils can opt to take it. Pupils are encouraged to take Music as an iGCSE subject if they show interest and practical ability. Advanced level music is available for musicians in the sixth form.
Instrumental Teaching
It is possible for a pupil to learn any of the following on an individual basis at the school, provided that the teachers have vacancies:
| | | | |
| --- | --- | --- | --- |
| Voice | Flute | Trumpet | Violin |
| Piano | Oboe | Cornet | Viola |
| Jazz Piano | Clarinet | French Horn | Cello |
| Keyboard | Bassoon | Trombone | Double Bass |
| Organ | Saxophone | Tuba | Guitar |
| Drum Kit | Tenor Horn | Euphonium | Bass Guitar |
| Theory |   |   |   |
Lessons are given during school time arranged on a rota basis to make sure that a pupil does not miss the same academic lesson each week. Pupils can be prepared for the practical examinations of Trinity Guildhall or Associated Board. Trinity Guildhall exams take place in May and December and Associated Board exams take place in December, March and July. Tuition in the theory of music is also available at the lunchtime theory classes held on Mondays and Thursdays.
New pupils who don't already play an instrument are encouraged to start learning one. It is the School's policy to suggest instruments that children might not otherwise consider, such as oboe, bassoon, french horn, trombone, and double bass but any choice of instrument is of course respected.
Concerts
A range of Concerts take place throughout the year, both in School and at other venues in the local area and the aim is to provide all musicians with regular opportunities to perform, both as soloists and as members of ensembles. The main school concert towards the end of each term features all the school orchestras, bands and choirs and provides a celebration of the tremendous variety of music offered at the school.
A series of informal recitals takes place on Friday lunchtimes throughout the year, enabling musicians of all ability to perform solos in a relaxed environment, whether they have their lessons in school or not. This gives them valuable performing experience and helps to prepare them for music exams and more advanced performances. Senior musicians have their own concert platform in Chamber Music Concerts, which feature some of the School's string, woodwind and brass ensembles, as well as solo items from performers of grade 5 standard or higher.
The School has a strong tradition for Music Theatre and the Music Department very much supports the Drama Department in staging productions.
Orchestras, Bands and Choirs
All singers and instrumentalists are encouraged to join one of the School's range of Instrumental and Vocal Ensembles. This applies both to those who learn at school and those who study elsewhere.
The School Choir is open to all and sings a variety of music from show songs to pop classics and gospel. Any pupil who enjoys singing is welcome to join.
The Schola Cantorum is the school's "chapel choir" and pupils are auditioned or invited to join. This choir leads the music in the Festival of Nine Lessons and Carols, the Commemoration service and the End of Term services, all of which are held in the Cathedral, and also performs in school concerts. A CD of Christmas Carols was released in November 2006 and the choir also toured Paris with the Senior String Ensemble in October 2006, including a performance at Notre Dame Cathedral.
Pupils in the fourth year and upwards may join the Gospel Choir, who sang in Barcelona with the Big Band in July 2008.
The Madrigal Choir is a small choir of our most able singers and performs madrigals and other renaissance and early music.
View an album of photos of the Jazz Night held in March 2009
A number of instrumental ensembles also meet to rehearse on a regular basis. All players of orchestral or band instruments are encouraged to play with the ensemble best suited to them. The following ensembles currently rehearse regularly:
| | | |
| --- | --- | --- |
| Chamber Orchestra | Big Band | Sinfonia (training orchestra) |
| Concert Band | Wind Band (training band) | Chamber Ensembles |
| String Quartets | Piano Trio | Brass Ensembles |
| Woodwind Ensembles | Jazz Ensembles | Guitar Ensemble |
| Early Music Consort |   |   |
The Chamber Orchestra regularly features performances by pupils of Concerto movements. The Big Band was founded in September 2004 and has made quite a name for itself within the school as well as in the local area and has released a CD called "Livin' the Mad Life". The band were invited to play at the Cork Jazz festival in 2011.
Music School Contact Details
The Director of Music is pleased to see and talk to parents at any time and may be contacted at the Music School on 01244 689530 or by email on .