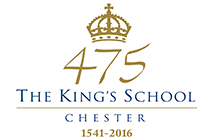 18 Dec 2012
King's Annual Pudding Races 2012
---
The King's School Rowing Club held its annual 'Pudding Races' on Saturday 15th December at The King's School Boathouse.
This historic annual event, which originates from the 1950s, involved all of The King's School rowers competing in scratch VIIIs, with the winners being presented with Christmas puddings by the High Sheriff of Chester.
There is also a sponsored boat event, which this year saw the Roland Partnership boat victorious over the Bibby Ship Management boat in a head-to-head race. The two businesses were the lucky winners of a race night boat race. The winning boat was presented with a plaque from the High Sheriff of Chester.
The day also saw the annual King's  boat-naming ceremony when the School's new rowing boats are officially named. This year the boats were named after former pupils: James Ball (Henley Royal Regatta winner in 1992), John Marsden (Captain of Boat 2011-2012) and Neville Orme (KSRC Coach 1990- present). Neville is one of the coaches of King's successful London Olympians, Tom James MBE, Chris Bartley and Olivia Whitlam.