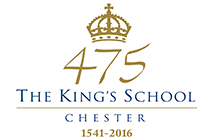 Welcome to the Sixth Form
King's School Sixth Form aims to provide its students with the skills and opportunities to succeed not only through the course of their A-level studies but also for university and beyond. Students are empowered to develop independent approaches to their work and their interests as well as leadership and being engaged in the school as a community.
The Sixth Form Centre is independent to the rest of the school and enables the Sixth Form to have its own identity whilst also remaining part of King's. It houses a lecture theatre, common room with a cafe, study rooms and IT facilities which are available to the students throughout the school day.
Sixth form students are encouraged to take responsibility for their own learning and to develop independent thought and self-discipline. The aim is to provide appropriate academic challenge, to encourage intellectual excitement and to help to fulfil each individual's potential.
Academic
The choice of subjects at A-level is an important decision that should not be taken lightly and students are encouraged to discuss and consider their options through the Fifth Form (Year 11) and to consult the Head of Sixth Form as the correct combination of subjects can be essential for university entry in a very competitive environment. Students have free choice from a wide range of subjects (subject to gaining necessary entry requirements) as well as further qualifications such as the Extended Project. Every student opts for four subjects at AS level with each subject having 10 lessons of 55 minute duration per fortnight. At A2 level students may drop down to 3 subjects but many continue with all 4 and achieve highly. King's has high academic standards and students are expected to work hard throughout their time here. Progression to the Upper Sixth is conditional on students attaining a minimum of 110 UCAS points (the equivalent of CCD) from their best three AS subjects and to have displayed a strong and sustained work ethic.
Extra-Curricular
All Sixth Form students attend a compulsory games afternoon, where twelve sports are on offer, and from September 2011 will also engage in one afternoon per fortnight of enrichment. As well as games there are a wide range of team sports which have their own training sessions scheduled during the week. Music and drama are also catered for in the Sixth Form (see Senior School Music and Drama & Arts tabs) and in the past students have organised and produced their own musical evenings and theatrical productions. There are also extra-curricular academic events including a host of visiting lecturers, debating groups, Model United Nations and Pudding Lectures (lectures given by Sixth Form students to other students). There is also the opportunity for students to start their own academic clubs and these include Med Soc for prospective medical applicants in the Sixth Form.
Support
We appreciate that Sixth Form is a demanding time for students and that they will need support and guidance at different stages during the two year course. In order to aid this teaching groups are small and a range of teaching styles is employed, partly to prepare students for the less structured teaching approach they will meet in higher education. Where students require further assistance the school provides guidance and support in all subject areas. The Sixth Form team, consisting of the Head of Sixth Form, Assistant Heads of Sixth Form and Form tutors, are always available to advise students in all aspects of study and personal life and communication between student, staff and parents is encouraged to ensure that the best progress can be made. Regular meetings take place between staff and students when support is required in order that guidance and reassurance can be given.
Opportunity for leadership
The Sixth Form are seen as the head of the school and as such we expect Sixth Formers to lead the school and play a significant part in its orderly running. They act as role models for younger students through their involvement in assemblies and duties across the school and, in some cases, help them to run clubs. There are many opportunities for leadership of various sporting, dramatic and musical activities and both the CCF and the Duke of Edinburgh's Award Scheme give leadership training in different contexts.