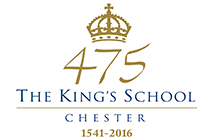 The Wickson Library
The mission of the Wickson Library is to support the school curriculum through providing staff and students with appropriate resources, information and assistance. The library also exists to foster a love of life-long learning outside of the confines of the curriculum and to promote and support reading for pleasure.
The library offers a calm, comfortable and welcoming place for study and reading within the school. As well as providing a class-sized ICT suite, the library also has study space for approximately 55 pupils and comfortable seating for another 15.
The library is open from 8:00am until 5:30pm every school day. All students are welcome to use the library for homework or quiet reading outside of lesson times. The library is used throughout the school day for lessons and by sixth formers in their private study time. Removes and Shells have a fortnightly reading session in the library and take part in a 'Readopoly' reading record scheme which encourages development and breadth in their reading.
The library holds around 12,000 books, of which around 3000 are fiction. The non-fiction collection provides for curriculum needs, enables students to read around their subjects and supports recreational interests. We also subscribe to over 60 journals and four daily newspapers. Staff and pupils are actively encouraged to recommend books and journals for the library.
As pupils are increasingly turning to the internet for information, the library subscribes to many online resources which provide useful and reliable information on various subjects. These include Britannica Online, Issues Online and various subject reference centres. These can all be accessed on the school network and outside of school through the information zone on the school website.
The online library catalogue can also be accessed at home or in school, and contains links to over 5000 recommended websites as well as information on all the books, journals and audio-visual items held in the library. Pupils can write and read reviews on the system and also look at suggestions for what to read next based on their previous loans. This is also available as a free app for the iPhone, iPad and android phones. As well as enabling pupils to check their library account and write reviews, the app also features an ISBN scanner so you can see if a book is available in the school library.
The library is currently in the process of setting up an e-book lending service, which will allow pupils to borrow books on any e-reading device other than a Kindle.
The school has entered a team into the Cheshire Schools' Book Quiz for the past four years, and won the competition in 2010. We are also entering two teams into the national Kids' Lit Quiz this year for the first time. These competitions are both open to Removes and Shells and are a great way of celebrating reading.
Any enquiries about the library can be sent to
| | |
| --- | --- |
| Top Ten Resources | New Resources |
| | |
Book of the Week - Sliding Puzzle