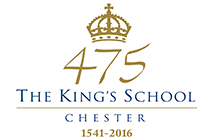 Senior School Admission and Fees
Admissions
Admission to the Senior School is by examination held each year in January. Candidates must be over 11 and under 12 years of age on 1 September following the examination. Exceptions may be made in the case of outstanding candidates.
The examination for September 2014 entry will be held on Friday 24th January 2014. In order to register your child for the assessments please use the downloadable registration form or contact the Admissions Manager by post, telephone, fax or email:
address: The King's School, Chester, CH4 7QL
telephone: 01244 689553
fax: 01244 689501
e-mail:
Please return to the Admissions Manager, The King's School, Chester, CH4 7QL, as soon as possible and no later than 13th January 2014.
Entrance Examination
The examination consists of:
non-verbal reasoning paper
verbal reasoning paper
mathematics paper
English paper
Interview with a senior teacher
The level is based on Key Stage 2 of the National Curriculum. Although there will be a few questions on the mathematics and English papers at level 5 candidates who have not yet reached level 5 should not be deterred from entering.
Download an information document about the examination and specimen papers in mathematics and English.
We occasionally have spaces available in the current school year. Please contact the Admissions Manager for more information on 01244 689553 or
Come Visit Us
Open Morning
The next open morning is on Saturday 12th October 2013, 9:30-12:00am. This is a fantastic opportunity to meet the pupils and teachers and see all the facilities of The King's School.
Discovery Days
Discovery Days for Year 5 pupils who are considering entry in September 2014 will be held on 20th and 21st June 2013.
Open Door Days
On Tuesday afternoons from 2-3:30pm, twice a month, we are opening our door for parents to see inside the school on a normal working day. Pop your head into a lesson a feel the stimulating atmosphere that is King's.
Fees
*Tuition fees per term: £3686
Lunches (compulsory) £229
It is the governors' policy to keep fees to a minimum while maintaining and, where appropriate, improving the school's standards and facilities. They are normally reviewed annually, with any change coming into effect from September, and are only subject to further increase in any one year if external factors cause costs to rise at a substantially higher rate than anticipated. Parents normally receive a term's notice of any increase.
*includes all stationery, textbooks, standard exam fees and personal accident insurance.
On the rare occasions where pupils on the SEN register are finding it difficult to access the full curriculum, reducing the timetable by one subject may be offered. This will not be an option for GCSE or A. level pupils. Students will instead attend lessons within the Learning Support department. At least one of these lessons will be covered by a specialist teacher and these will be charged at an additional fee of £15.00 per hour.
Financial assistance and bursaries
No parent should be deterred from applying to King's because of financial considerations. It is the policy of the school to give whatever financial assistance it can where the need exists. If you wish to discuss the matter of financial assistance, please contact the Bursar at . Please read our "Helping With Fees" booklet for further information. Bursary application forms can be requested from the Admissions Manager: Tel. 01244 689553 or e-mail